ADVERTISEMENT SECTION
ELECTION RESULTS
On Sunday October 28th the second round of voting in Brazil's 2012 local elections took place, that is in those cities that needed another vote to produce a final winner. The biggest change took place in São Paulo. José Serra (PSDB) lost in the second round to Ricardo Haddad (PT). Haddad promised to work closely with the federal administration and immediately flew to Brasilia to meet President Dilma Rousseff. The President already publicly toyed with the remark that she "will take a look at the city's debt". But the PT failed to dominate in any other main city contested in this second round.
In Curitiba Gustavo Fruet (PDT) won a clear majority, though with PT support. Roberto Claudio (PSB) meanwhile won Fortaleza, beating the local PT candidate, Elmano. In Salvador, ACM Neto (DEM for Democratas) became Mayor-elect. In a highly complicated arrangement, Neto received support from the PMDB, a party that is at the heart of the PT's coalition government on the federal level. But at state level in Bahia it is in the opposition role – acting against PT Governor Wagner. And at Salvador city level the PMDB is in cahoots with the rightwing DEM candidate, who beat the PT's Pelegrino.
Former President Lula campaigned hard on behalf of PT candidates in several cities, but – besides São Paulo city – to little avail. In Campinas for instance, São Paulo State's second economic center, Márcio Pochmann, former president of Ipea (Instituto de Pesquisas Econômicas Aplicadas) and PT candidate, was beaten soundly by Jonas Donizette (PSB), who took 57,7% of the valid votes in the second round.
Three weeks ago the following results were already known after the first round: Rio de Janeiro: Eduardo Paes (PMDB), Belo Horizonte: Marcio Lacerda (PSB), Recife: Geraldo Julio (PSB), Porto Alegre: Fortunati (PDT), Goiania: Paulo Garcia (PT). Now we can look at all of Brazil's state capitals. Of these the PT just took four in total, the PSB five, the PSDB also four and the PDT three. Six another parties scored one or two capitals as well.
It's a hard job to draw any conclusions on such fragmented results. But what matters is that if you are dealing with a municipality that has now changed hands from one party to another, you may have to rebuild your contacts from scratch. Many officials – and not just politicians – will be replaced from January 2013, when the Mayor-elects take charge.
For those who like interactive election maps, check out the results in all of Brazil's municipalities at Folha.
BRAZIL WEEKLY'S BEST SELLER
INTERNATIONAL
Foreign Minister Antonio Patriota is in Washington for the Global Partnership Dialogue Brazil – United States meeting. Patriota will discuss partnerships in the areas of education, science, technology and innovation, as well as social inclusion (poverty reduction) and combating discrimination, Agencia Brasil reported. Representatives of both countries are thought to continue discussions on the elimination of visas for Brazilians visiting the US. Trade relations are intensifying too. In 2011, Brazil exported goods worth $25.8 billion to the US, an increase of 33.7%, compared to 2010. At the moment, the US is the second biggest market for Brazil exports, buying slightly over 10% of all Brazilian exports.
Besides strengthening the current naval cooperation and bilateral economic ties, Brazil intends to support Namibia's participation on the Community of Portuguese Language Countries (CPLP, acronym in Portuguese) and the creation of a direct airline between both countries (Federal Senate).
Adapted to local realities, Brazilian agricultural practices could help fight world hunger, according to the British Department for International Development (DFID), which has partnered with the Brazilian Agricultural Research Corporation (EMBRAPA) and the World Food Program (WFP) for joint actions abroad. "Together we fight against global poverty, particularly in Africa. We believe that Brazil has many good practices to share," said Daniel Bradley from the DFID (Portal Brasil).
In the first nine months of 2012, the Brazilian Ministry of Labor and Employment (MTE) granted a total of 55,009 temporary and permanent work permits for foreign professionals, an increase of 5% compared to the same period in the previous year. In particular, factors such as humanitarian visas granted to Haitians, work permits for foreign specialists and foreign technicians responsible for the installation of imported machinery and equipment, and technical assistance / technology transfer contributed significantly to the increase (Portal Brasil).
DEFENSE & SECURITY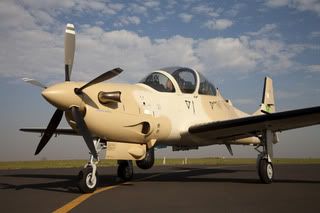 Embraer Defense and Security delivered the first light attack and advanced training A-29 Super Tucano turboprops to the Air Force of Mauritania. The aircraft will be used for border surveillance missions (Embraer).
Elbit Systems announced that Ares Aeroespacial e Defensa Ltda. , its Brazilian subsidiary, was awarded an initial production order valued at approximately $25 million to supply 12.7/7.62mm Remote Controlled Weapon Stations (RCWS) to the Brazilian Army. The RCWS, named REMAX, a unique development of Ares, will be supplied within two years (Elbit Systems).
Brazil and the Ukraine will be stepping up their space cooperation program, President Rousseff said after speaking by phone to her Ukranian counterpart. The countries are joinly developing thei program at Brazil's Alcantara Space Centre.
WANTED
Brazil Weekly is looking for opinion writers. A nice opportunity for consultants and other authors to share their knowledge and views to a wide audience…!
Contact us at atlanticoweekly at gmail.com
SOCIAL
Brazil jumped 20 positions and now ranks 62nd in the global index of equality between men and women, the World Economic Forum (WEF) reported.