PROJECT OF THE WEEK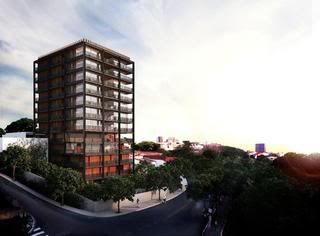 Render of the Oito residential building for Vila Madalena in Sao Paulo (Skyscrapercity).
BRAZIL WEEKLY'S BRAZIL'S NEXT 10 HOTTEST BUSINESS CITIES
No doubt the biggest and most important business centres of Brazil are the megacities of Sao Paulo and Rio de Janeiro and do not forget most other state capitals like Belo Horizonte, Salvador da Bahia, Recife, Fortaleza, Curitiba and Porto Alegre.  But Brazil is big and there are plenty of other fast developing cities, not being state capitals. So for a minute forget Sao Paulo, Rio and those other 2014 World Cup host cities and check out Brazil Weekly's Brazil's Next 10 Hottest Business Cities.
ADVERTISEMENT SECTION
SUBSCRIBE, IT'S FREE!
You request a free subscription to Brazil Weekly here and get email notifications on updates.
Brazil Weekly is also Facebook. You can like us here and join our group there.
You can also follow Brazil Weekly on Twitter at brazilweekly.
And be very welcome to join the Brazil Weekly networking and discussion group on Linkedin: Click here to join.
YOUR AD ON BRAZIL WEEKLY
It is now possible to place your ads on Brazil Weekly. Write us for the options.
AMAZON
Brazil's "Pandora Dam" in the middle of the Amazon is the most schizophrenic and controversial hydroelectric power project on this green earth. It's up. It's down. It's on. It's off. So far this  year, the Belo Monte 11,300 megawatt power station smack dab in the heart of Indian country in the Amazon rainforest has been shut down four times (Forbes).
NORTH EAST
Caern, the water and wastewater company for northeastern Rio Grande do Norte state, said about 780 million reais ($383 million) in projects and improvements are under way, mostly for sewer upgrades. The state capital of Natal and Mossoro are the sites for 520 million reais of the projects and improvements that include expanded sewage and wastewater treatment services and potable water distribution (Bloomberg).
Whales are returning to the coast of Brazil. Last year, nearly 11,500 humpback whales were counted off the coast of Brazil – a new record, the Baleia Jubarte Institute cheered in a report (MercoPress).
GOIAS
It is in the heart of Brazil, between two capitals, that of the state of Goiás and the Federal District, where history preserves two legacies of the Brazilian colonial period: Goiás City and Pirenópolis. A cool way to discover this part of Brazil still known by a few is to plot a route that begins in Goiânia and ends in Brasilia. On the way, waiting to be tamed, the two cities founded by pioneers in the 18th century (F0lha).
RIO
Map of the future Acu Superport for northern Rio state, currently under construction (more).
In the race to develop better infrastructure in the city before hosting the 2016 Olympics, Rio has launched an ambitious transportation plan of BRT (Rapid Bus Transit) lanes to help link previously under-connected neighborhoods. Unfortunately inadequate road signs, as well as reckless drivers, motorcyclists and pedestrians, have been blamed for a rash of accidents on the BRT Transoeste (The Rio Times).
From across Guanabara Bay on the shores of Niterói, seeing the sun set over Rio may signal to some day-trippers to begin their journey back. However after sundown, Niterói has its own nightlife; restaurants, bars and clubs waiting to reward visitors who stay for a little longer (The Rio Times).
Four politicians were arrested and three others were being sought in an anti-corruption sting in a Rio de Janeiro town, officials said, describing it as an example of other operations that are under way. Among the seven arrested or sought were the mayor, the leading candidate for mayor and the head of the city council in Guapimirim (Washington Post).
Art collecting was long considered the exclusive domain of a tiny cadre of enthusiasts from the country's ruling elite, but Rio's middle class is jumping in and investing, and international dealers are scrambling for a toehold in this promising market (Washington Post).
After decades of decay, crippling crime rates, and a loss of big business to rival São Paulo, Rio is on the rise. A recent boom in Brazil's economy, the discovery of massive offshore oilfields nearby, and Rio's planned hosting of the World Cup and Olympics in the next four years have restored some of the splendour to the tropical city of 6.5 million people. But one mayoral candidate is tired of the exuberance: Marcelo Freixo (Reuters).
SPLIT SECOND POLLS
SAO PAULO
The BNDES approved R$ 1.135 billion in financing for Companhia de Gás de São Paulo (Comgás). The resources, which represent 56% of the total investments the company will make over the period, will be used to expand the natural gas distribution network between 2012 and 2014 (BNDES).
A constellation of inter-related artworks sets conceptual sparks flying at this year's São Paulo Art Bienal (Time Out Sao Paulo).