POLITICS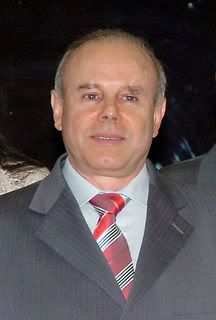 Brazil's government unveiled a host of new measures aimed at increasing investment and consumption as it expanded efforts to boost a sluggish recovery in the world's sixth-largest economy. The latest round of stimulus included cheaper credit for trucks and machinery and an extension of tax breaks for makers of home appliances and automobiles, Finance Minister Guido Mantega told Reuters.
Tony Blair and Bill Clinton were in São Paulo, speaking at an event run by Itaú BBA, a Brazilian investment bank. Sharing the platform was Fernando Henrique Cardoso, whose two terms as Brazil's president, from 1995 to 2002, overlapped with both visitors' own periods in office. Ilan The threesome entered a discussion that touched on foreign views of Brazil and Brazilian views of abroad—and what the developed world could learn about handling financial crises from a country that has suffered more than its fair share of them in the past, but is coming through the most recent one much better than most (The Economist).
Brazil is attempting an unprecedented "triple jump" of construction projects — preparing to host the 2014 World Cup soccer championship and the 2016 Olympics while also spending nearly $500 billion on highways and other infrastructure to make an economic leap forward (Reuters).
Brazil's government is exploring ways to ease immigration rules in order to attract up to 10 times more foreign professionals and help spur economic growth, a senior official told Reuters.
When it was in the opposition, Rousseff's Workers' Party decried privatization under President Fernando Henrique Cardoso. Thus, Rousseff was careful to say that the government's new plan did not amount to the p-word. "We are not selling off state assets to raise cash," she said, describing just one form of privatization (Bloomberg).
Most of the public sector workers in Brazil who had been taking part in one of the country's largest ever industrial disputes, have called off their strike. The government said the majority of public workers had accepted the offer of a 15.8% pay rise over three years (BBC).
Lula — as he is universally known in Brazil — is back in fighting form. Resurgent in Brazilian politics after doctors recently said that his cancer had gone into remission, Mr. da Silva has begun campaigning for mayoral candidates in Brazil's largest cities (The New York Times).
By eight votes to two, the majority of the justices of the Supreme Court decided to convict the first politician implicated in the mensalão scandal. João Paulo Cunha (SP), one of the leading names in the PT during Lula's first term, when he was elected to the presidency of the Chamber of Deputies (2003-04), was convicted on charges of bribery and embezzlement (Folha).
ADVERTISEMENT SECTION
SUBSCRIBE, IT'S FREE!
You request a free subscription to Brazil Weekly here and get email notifications on updates.
Brazil Weekly is also Facebook. You can like us here and join our group there.
You can also follow Brazil Weekly on Twitter at brazilweekly.
And be very welcome to join the Brazil Weekly networking and discussion group on Linkedin: Click here to join.
YOUR AD ON BRAZIL WEEKLY
It is now possible to place your ads on Brazil Weekly. Write us for the options.
INTERNATIONAL
Four certified charts of the Falklands/Malvinas Islands dating back to the XVIII century and belonging to the Pedro de Angelis collection of Brasilia's National Library were given by the Brazilian Foreign ministry to the Argentine delegation currently holding a bilateral meeting in the country's capital (MercoPress).
Senator Eduardo Suplicy (PT-SP) praised the support of the Union of South American Nations (Unasul) to Ecuador's government, which shelters at its diplomatic representation in London the Australian Julian Assange, founder of the Wikileaks website, responsible for the leak of secret documents (Federal Senate).
With 8500 kilometers of coastline, Brazil controls an ocean range of 3.5 million square km, known in international law as the Exclusive Economic Zone (EEZ), which corresponds to the famous 200 nautical miles (370 km). Right there, in a strip of ocean 15 km by 200 km (3,000 square km) a "sushi war" has erupted between Brazilians and Japanese. All because of tuna (Folha).
SPLIT SECOND POLLS
DEFENSE & SECURITY
Brazil's defence industry is booming, fuelled by government incentives to modernize the country's armed forces and develop a robust, export-oriented military industrial complex. With the world's sixth largest economy, Brazil was ranked as the eighth largest arms exporter in the 1980s but currently languishes in 30th place, according to industry experts (MercoPress).
EDUCATION & HEALTH
U.S. colleges, holding onto a shrinking lead as the world's biggest educator of international students, are eyeing a promising new market in Brazil, an emerging economy with big hopes for the future but a shortage of skilled labor (Reuters).
President Dilma Rousseff signed an action bill into law for boosting the number of college graduates from black, indigenous and mixed-race backgrounds (Xinhua).
Brazil's anti-AIDS program will be expanded to include at least 35,000 more people, a Health Ministry official (Business Week).